1: 1 against Erzgebirge Aue! KSC with 7th draw in a row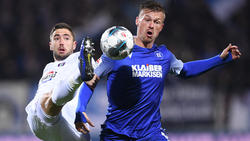 The Karlsruher SC can not win in the 2nd Bundesliga. Despite more than one half in the majority of the Baden came on Monday evening not a 1-1 (0-1) against the FC Erzgebirge Aue addition. The KSC played for the seventh consecutive draw. Jan Hochscheidt (7th minute) had shot Aue into the lead, but before the break the attacker (41.) then flew with red from the square. After that, substitute Anton Fink (64 ') came on in front of 12,358 spectators in the Wildparkstadion. The KSC says goodbye as Table ten in the international break, Aue slips to fifth place.
    
"We made one point, but played a very bad first half," criticized KSC coach Alois Schwartz after the TV channel "Sky". "I do not understand that you are so carefree in the game." Aue's pro Sören Gonther, on the other hand, was happy: "In the end this is a point we like to take with us and we are very proud of that." The Karlsruher missed more, even though they played a majority over half-time. In the 39th minute Hochscheidt had seen first for a fierce foul on Marco Thiede first yellow. Then referee Sven Waschitzki looked at the scene but again on the video screen – and showed red.Dabei it had started perfectly for Hochscheidt and his team before. Aue played braver and better, and that paid off after seven minutes. After a fine pass from Florian Krüger Hochscheidt ran free on KSC-keeper Uphoff, umkurvte him, and brought the ball from an extremely acute angle even in the goal of the hosts unter.Der KSC, however, initially tried it mainly with long balls on goalscorer Philipp Hofmann, but this did not bring much success. Only in excess number increased the Baden. This benefited only two minutes before substitute Fink, who met after a chaos in the Auer penalty area to equalize. But more was not enough.