1. FC Nuremberg wakes up too late on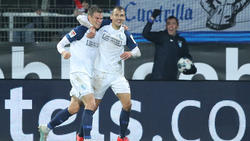 VfL Bochum has made the longed-for liberation and retraced their first home win in the second Bundesliga. At the end of the 12th match day, the Revierclub threatened to relegate on Monday evening in the duel of the former Bundesliga side the 1 FC Nuremberg 3: 1 (3: 0) and improved in the table by one place in 16th place.
    
Danilo Soares (9th minute), Simon Lorenz (40th) and Manuel Wintzheimer (45th) scored the first victory in the Ruhrstadion after five home draws in front of 16,046 spectators. Asger Sörensen (63) shortened for the now four-league games and triumphantly slipped down to eleventh place six days after the remarkable performance in the close match in the DFB Cup against Bayern Munich (1: 2) returned to the league at VfL -Alltag. Because Bochum's best striker Silvère Ganvoula had to serve a yellow card suspension, coach Thomas Reis sent striker Wintzheimer from the start for the first time on the field. Lorenz returned to center-back alongside 17-year-old Armel Bella Kotchap, "Showing such a reaction after the Bayern game was very important to us, compliments to the troupe, let's take a deep breath," Reis told Sky. The club, which had failed in the Cup against third division 1. FC Kaiserslautern, complained in Enrico Valentino (ill) and Georg Margreiter and Oliver Sorg (both injured) three defensive failures. U19 goalkeeper Benedikt Willert scored in the goal, as three goalkeepers were unable to play in Patric Klandt, Christian Mathenia and Jonas Wendlinger. The fourth keeper Andreas Lukse sat with fever on the bench. The first chance to lead the club had. A shot by Robin Hack (8) was able to parry VfL keeper Manuel Riemann, but did not hold on. Michael Frey brought the ball in the post but not over the line. Only three minutes later, the 1-0 Bochum fell, the same committed to work as against Bayern. Robert Tesche and Soares conquered the ball together, and the Brazilian completed with a placed shot in the lower corner.FCN-Youngster pats, VfL increased five minutes before half-time, VfL increased to 2: 0. A free kick from the left side of Danny Blum was Willert just before the feet of Lorenz abklatschen, who only had to push. Shortly thereafter Blum hit the crossbar by free kick, before Winzheimer – again after preliminary work of the outstanding Blum, practically with the halftime whistle the game already decided. The team of coach Damir Canadi you have to be good, that it never gave up even after the high deficit and everything tried. After a 1: 3 header from Sörensen (63) germinated again hope, but in the end it was not enough to the point win. In the closing stages, referee Matthias Jöllenbeck did not post a supposed FCN goal following an offside position.