ATP Finals: Unleashed Zverev leaves no chance for Nadal in London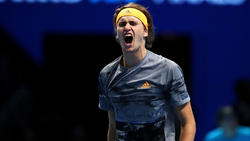 An exclamation mark to kick off: Alexander Zverev opened his mission to defend the title at the ATP finals with an impressive debut victory over superstar Rafael Nadal and set course for the semi-finals , The 22-year-old defeated the Spaniard on Monday night in London with 6: 2, 6: 4. For Zverev it was the first victory in the sixth duel with the 19-time Grand Slam champion. "That means a lot to me, the atmosphere here is great and unusual, so it's worth the long season," said Zverev , The previous year's champion has good chances of progressing ahead of his next round matches against Greece's young star Stefanos Tsitsipas and Russian Daniil Medvedev. The two winners of the group "Andre Agassi" reach the knockout stage in the elite tournament of the eight best of the season.
    
Nadal, who had last retired at the Masters in Paris with a stomach muscle injury before the semifinals, showed at the beginning at least physically no signs of weakness. The better start in the imposing and almost fully occupied O2 Arena caught Zverev. The native Hamburger served strong and sat down after a break to 3: 2 early. Focused and extremely consistent Zverev used his weapons. He made hardly any simple mistakes, took his two break chances ice cold and dominated the points impressively at their own serve. Six aces and not a single double fault were to beech, as the German secured after only 36 minutes the first round. Also in the second set Zverev caught a little later a dream start and took the serve from Nadal. With its own service, the world ranking list player continued to act extremely confidently, letting no breakball to the end and shining spectacularly. Zverev was the third German after Boris Becker (3 times) and Michael Stich (1) who triumphed at the event at the end of the year and won the biggest title of his career so far. This year he had to shiver after qualifying for a long season to qualify, but has shown in recent months, rising form.