ATP World Tour Finals: Novak Djokovic loses nerve thriller against Dominic Thiem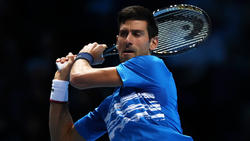 The Austrian Dominic Thiem has reached the semi-finals of the ATP finals after yet another coup. The 26-year-old beat On Tuesday night, after his opening win over Roger Federer, his long-term rival Novak Djokovic in a spectacular match 6: 7 (5: 7), 6: 3, 7: 6 (7: 5) qualified for the first time in his fourth appearance in London knockout stages.
    
The second semi-finalist of the group "Björn Borg" play in a direct duel on Thursday Federer and Djokovic. It's their first clash since the epic final at Wimbledon in early July. Jokovic has won the tournament's top eight season five times. With another victory, he would catch up with record champion Federer (6), who had his chance to progress through a two-set win against Matteo Berettini in the afternoon. In addition, Djokovic fights in the O2 arena for the return to world number one spot, of which him last Rafael Nadal (Spain). The duel between Djokovic and Thiem was contested from the start. After the first break for Djokovic to 3: 1 the match really took off, followed by several spectacular rallies. In the tiebreak Djokovic was just ahead. In the second set Thiem got off to a perfect start and immediately took the serve from Djokovic. The French Open finalist was no longer able to take this lead and managed to equalize the set after 1:44 hours. Thiem also started the third round with a break, ultimately beating off all the favorites' favorites and being allowed to cheer for another 63 minutes.