ATP World Tour Finals: Roger Federer keeps his nerve and beats Matteo Berrettini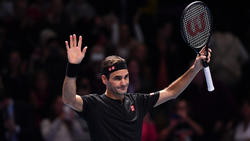 Record winner Roger Federer has kept his chance for the semi-finals at the ATP finals in London. The Swiss won on Tuesday his second group match against the Italians Matteo Berrettini 7: 6 (7: 2), 6: 3.For the start on Sunday had Federer yet another unexpected defeat against the Austrians Dominic Thiem cashed.
    
On the final day of the preliminary round, the 38-year-old will now have to deal with his permanent rival Novak Djokovic, who plays Thiem in the evening. Only the top two of the group "Björn Borg" reach the knockout stage. Federer has won the elite tournament of the eight best of the season so far six times, before his 17th participation he was only once in the group stage eliminated. Berrettini had Federer acted very effectively at the beginning, kept the rallies short especially in his service. However, because his opponent hardly allowed any chances with his own serve, the first set headed into the tiebreak after just 36 minutes. There, the 20-time major winner played his technical superiority fully. In the second round, Federer started with the first break of the day. At the score of 4: 3 he had to fight for a long time in his serve game, but eventually kept his lead and made it clear with another break shortly afterwards. After 1:18 hours he scored his second victory in the second duel with Berrettini. Title defender Alexander Zverev had started the day before with an impressive two-set win against Rafael Nadal. His next opponent is Stefanos Tsitsipas from Greece on Wednesday. The winner in the gigantic London o2 World can win up to 2.9 million dollars and 1500 world ranking list points.