Bayer Leverkusen with final in the refrigerator Moscow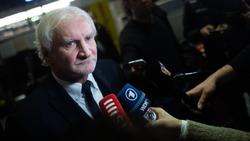 When the Leverkusen players arrived in Moscow with just under an hour late, they received a cold but bearable Luft.Sie, however, may have been just a taste of the, what Bayer is expecting in the 100th Champions League match in the club's history: a final in the ice. Because for at least for the overwintering in the Europa League decisive match at Lokomotiv Moscow on Tuesday are expected to double digits.
    
For Rudi Völler, the cold is not a big problem. "It's an all-or-nothing game, so I expect a hot fight despite the downslope," said the head of sport, "I do not think the cold is that bad, at least that's no excuse." For the spectators it is "worse than for the players on the field you have to move". National player Jonathan Tah even thought of his coach Peter Bosz. "For him it is worse, we move at least," he said, but otherwise did not want to deal with the topic. Voeller recalled a game in November 2007 at Spartak Moscow (0: 2). "There we played at minus 15 degrees," said the world champion of 1990: "It will not be that bad this time, so everything is so wild." On the other hand, Lok's German 2014 World Champion, Benedikt Höwedes, sees no advantage for his team. "It will be difficult for both to play in these freezing temperatures," said Höwedes of the German Press Agency. "It will be just as important to us as the Leverkusen side, and you can not get used to cold weather." Leverkusen has been in the grip of too much of the outside circumstances for too long, but both should not allow themselves anyway. "We know what it's about," Völler said: "But with the great win against Atlético we have everything back in our own hands." After the 2: 1 against the two-time finalists Leverkusen is despite tie 1: 2 in the first leg tied with Lok, is in direct comparison but still behind. Means: In a win with two goals difference or one goal difference in at least three, Bayer is the winter in the Europa League sure. Eventually there will be even a final to progress in the Champions League. A defeat would mean before the last game against the already qualified Juventus the complete withdrawal from the European Cup. Three regular players are missing in Moscow and the Bundesliga Ninth traveled with injury concerns to Russia. In Kai Havertz and Mitchell Weiser and the suspended Nadiem Amiri are missing three regular players, in Julian Baumgartlinger a fourth is questionable. But Völler does not want to think too much about that either. "A few failures in November, others have." This is part of the many English weeks, "he said.Conversely, the ex-Schalke in the absence of Havertz does not necessarily see a big disadvantage for Bayer. "Kai is a mega-player, but offensively they can do well, so I think they can replace him well," said the 31-year-old: "Moussa Diaby, for example, has played a huge game against Freiburg." Ex-Schalke captain : "It will be a tough fight on a difficult track" Overall, Höwedes sees the odds as balanced. "We have respect for Leverkusen, logically, but we do not have to worry," said the 31-year-old, who watched the Freiburg game on television. Respect also has Völler. "The first twitch after our defeat in the first leg was how to lose against them," he said: "But they've shown they're right in the Champions League, and it's going to be a tough fight on a difficult track."