Bayern celebrate successful pick-up fight against Piraeus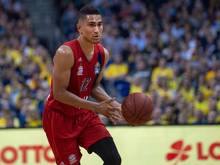 The basketball players of Bayern Munich have successively won after three EuroLeague defeats. The German champions kept the upper hand in the duel of the neighbors Olympiakos Piraeus from Greece with 85:82 (43:44). By the fourth victory in the ninth game, the Munich hold on to the upper third. While Maodo Lo, who was recently scored, was back on the bench for Bayern, Nihad Djedovic was forced to suspend due to knee problems.
    
At the start, the hosts ran behind them in front of 5096 spectators (0: 4 / 2.Minute), but during the first quarter they turned the game (23:17). By the 17th minute, the Bundesliga side claimed the lead before the three-time champion reported back. In the third round, the Munich then started weak and initially lost the connection (49: 59/25.). One reason for this was the weak casting rate. Led by Lo – the top scorer of the match with 19 points from Olympiakos pro Wade Baldwin IV – the Bavarians came back and topped the field in the final minutes. "We had a run in the fourth quarter and the momentum has changed" said Point Guard Lo at "MagentaSport". On Friday, the Greek weeks continue when Panathinaikos Athens arrives at Munich's Westpark.