Beierlorzer said goodbye to WhatsApp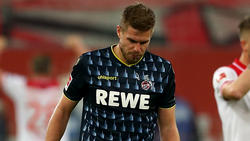 After the end of Achim Beierlorzer at 1. FC Köln, goalkeeper Simon Terodde was the first player ever to comment on the events surrounding the dismissal of the exercise leader at Geißbockheim. Opposite the "Express "revealed Terodde that Beierlorzer said goodbye to the sealed separation of club and coach by WhatsApp from the team. "He sent us a message, we were also informed in public, as it should be," said the striker.
    
Three days after the bitter last-minute defeat against TSG 1899 Hoffenheim (1: 2), which preceded the leave Beierlorzers, seems at Geißbockheim on 11.11, the beginning of the carnival, the descent-threatened Effzeh no one in celebratory mood. Terodde welcomed the sporting director's decision to forego routine session training in costumes: "This is not the time to run up on carnival jerseys, we have a lot of work to do this week, so we should work," the attacker admitted He was already clear before the defeat against TSG that the coach in a defeat in the home game probably have no future in Cologne. Terodde assures that the team fought for the coach and counter on Friday night in the fight against relegation: "We really wanted to win, even the point would have helped us, we did not bring him." "It does not matter who The training leads "After the team needed the weekend to digest the defeat and the dismissal of Beierlorzer, one must now look forward to attack again in the remaining games of the second half of the international break. "We still have some important games ahead of the winter break, so we have to score points in order to have a good starting position." Under which coach the 1. FC Köln on 12 Matchday in Leipzig (23.11., 18:30 clock) runs, is still in the stars. André Breitenreiter, Tayfun Korkut and Pál Dárdai are the candidates hotly traded in the media for the job at Geißbockheim. Terodde sees the situation around the still vacant coaching post. "It does not matter who directs the training, the search for a coach goes on, until then we'll work well, then we'll see what's next week."