BVB boss Watzke defends whistles and announces talks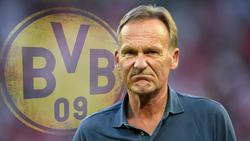 After Borussia Dortmund's defeat in the top match against Bayern after a more than weak performance of the home blessing askew. BVB boss Hans-Joachim Watzke did not agree with the appearance of the Schwarzgelben and defended therefore also the whistles of the followers, who countered the professionals after the end of the game. "I understand the reaction of the fans, any criticism is justified," Watzke told the "WAZ". "In the coming week, I will sit down with the athletic director in the course of our round and we will analyze the actual situation closely", announced the 60-year-old an intensive work-up.
    
Previously, the BVB stars were mercilessly booed and sent away on their way into the curve by the hot-blooded Dortmund spectators, who had begun the long journey to the Allianz Arena. When BVB "it is never completely quiet" Julian Brandt was visibly confused, as he admitted in the mixed zone. "Of course, on Wednesday you will still be celebrated," the midfielder looked back on the win against Inter Milan. "And if they are dissatisfied, there are whistles, that's not the first time this happens in football," Brandt said. But he has become accustomed to the circumstances at BVB: "It will never be completely quiet". Recently, it was "turbulent weeks with ups and downs", so Brandt on. "And maybe it's just good that we split up for two weeks in the international break and then continue against Paderborn where we left off on Wednesday," the 23-year-old looked ahead.