BVB continues to fear for Marco Reus' involvement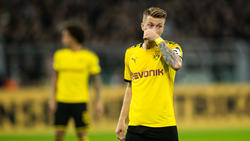 Borussia Dortmund faces fears that his captain will miss out on groundbreaking days. Marco Reus was replaced in the Bundesliga match against BVB VfL Wolfsburg (3: 0) on Saturday after 27 minutes, after he had gotten a blow on the foot – the spot that has caused him problems for years. His stint on Tuesday against Inter Milan (21:00) is in jeopardy, "I do not know yet what's going on with him," coach Lucien Favre said during a press conference on Monday. Only in the afternoon or possibly on Tuesday will a decision fall. In the final training Reus was in the evening, at least in the public 15 minutes not on the court. Otherwise, Favre said, there are "no injury concerns".
    
The game against Inter in Group F with Slavia Prague and FC Barcelona is groundbreaking for both sides. With a win, the BVB could plan slowly for the knockout stages, in the event of a defeat, the gap to the Milan would be to catch up only with much help. "We have to attack well, but also defend well," Favre demanded: "This is a very dangerous team." The Swiss has recently made a plea for the rotation, but will spare no one against the former European Cup winner. Axel Witsel, Jadon Sancho and Thomas Delaney will most likely return to the starting eleven. Roman Bürki replaces Marwin Hitz again in goal.