BVB: Kehl defends Favre: "No One-Man-Show"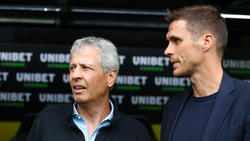 After the victory of Borussia Dortmund against VfL Wolfsburg (3: 0) Sebastian Kehl was a guest of the "ZDF" in the "Current Gym". The head of the licensing player department of the BVB spoke among others about Lucien Favre, Mario Götze and Jadon Sancho. Sebastian Kehl …… about the criticism of BVB: "In spite of all the criticism that we had to take in the last few days We have to deal with a few new challenges this season, we had a few injuries, so I thought it was premature to get so much criticism and the only thing that can be done is to try and succeed to set the direction, and we did that this week. "
    
… about the champion statement before the season: "We want to try to become German champion, we did not say that we have to, I think that's a big difference." … the bumpy season Start of BVB: "I do not think that's because we made that statement … Any player who comes to Borussia Dortmund knows we're playing for titles, we know how German champions go, some players are not Of course we have to develop further. "… about the storm problem of the BVB:" Paco is missing us at the moment. "So it was that we said:" We Going into the season with the Storm duo (Götze and Alcácer, editor's note) because we believe in it, it was absolutely okay for us, the obligation is not just with the two players, we have a lot of offensive power. At the moment I do not see the need to act in winter. "… practice Lucien Favre: "If you pick Lucien Favre, you know what you get. First of all, we have a coaching team. Everyone is trying to influence. This is not a one-man show. The coach questions very much. He tries every day to make the team better. He works incredibly meticulously and in love with detail. He wants to win every game. Of course he has a certain game philosophy and as a coach you have to go through and live. "… about Mario Götze:" We talk a lot. I can totally understand his feeling. He has reacted well against Wolfsburg and has also made a goal. This is not an easy situation for him, but we need the whole team. "… about Jadon Sancho:" You have to be careful that you do not overdo and do not lose focus. When I think about what's going on in Jadon, he needs to stop. And we try to give him as an association. The boys test their limits. We are very happy with his development and have a lot of fun with him. Even if he can play even better than he does at the moment. "