BVB: Worried children think about saying goodbye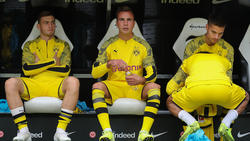 At Borussia Dortmund there is a lot of competition for places in the starting eleven. Some BVB professionals, who are less respected by coach Lucien Favre, therefore push frustration and should even consider a change in winter or at the latest in the coming summer. According to "image" Jacob Bruun Larsen wants to leave BVB as soon as possible. The Dane is anything but satisfied with his role as a banker. This season, the 21-year-old comes only on three short appearances in the Bundesliga.
    
Although Bruun Larsen had stressed in early October that he has "no ambitions" to turn his back on Dortmund, but his opinion may have changed according to the tabloid. VfB Stuttgart, to whom Bruun Larsen had already borrowed in the second half of the 2017/18 season, is considered interested. Another candidate for a winter change is Leonardo Balerdi. The youngster does not play any role under Favre and has never once been in a competitive match for the pros on the field. Obviously, VfB Stuttgart was already interested in a loan of the Argentine in the summer, the BVB refused loud "picture" but from. In the next transfer window, the cards could be shuffled again.Schmelzer-parting from BVB in the summer sure? Also in the summer, some BVB professionals could search the distance. According to the report, a farewell to the long-time captain Marcel Schmelzer is safe. The 31-year-old has long since lost his place in the championship and was once on the pitch once in all competitions this season. Schmelzer is still tied to BVB until 2021. Dan-Axel Zagadou and Mahmoud Dahoud also seem to be dealing with a transfer after the end of the season. After the signing of Mats Hummels, the French central defender is a perpetrator. Only in the cup against Borussia Mönchengladbach (2: 1) allowed the 20-year-old over the full distance ran.Dahoud is also rarely used and must join behind Axel Witsel, Thomas Delaney and Julian Weigl. If Dahoud's situation does not change, a summer change is conceivable, so "picture".