Champions League | Former FC Schalke captain self-confident against premiership duel against Leverkusen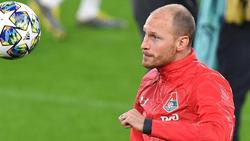 Former FIFA World Cup winner Benedikt Höwedes sees no advantage in the expected minus temperatures in the Champions League match against Bundesliga side Bayer Leverkusen His team Lokomotiv Moscow "It will be difficult for both of them to play in these freezing temperatures", said Höwedes before the fifth group match of the Champions League on Tuesday (18:55 CET) of the "German Press Agency". "That will be just as important for us as the Leverkusen-based team – you can not get used to the cold." Announced are up to minus nine degrees.
    
Even otherwise, the ex-Schalke sees the chances of the alleged final of the Europa League participation as balanced. "We have respect for Leverkusen, logically, but we do not have to worry," said the 31-year-old, who watched Bayer's 1-1 draw with SC Freiburg on Saturday: "We have home advantage, but Leverkusen is They are incredibly dominant and offensively strong, and we have played two super games against Juventus and sold well. "The lack of international player Kai Havertz is not necessarily a big disadvantage for Bayer. "Kai is a mega-player, but offensively they can do a good job, so I think they can replace him well," said Höwedes: "Moussa Diaby, for example, played a huge game against Freiburg." Both have little chance of winning Progressing in the premier class and wanted to secure the third place, which secures the participation in the Europa League. The first leg Moscow won 2-1 and thus comes with an advantage in the fight for a direct comparison in the game. Currently, both teams are tied with three points.