Eberl hands over to Cuisance for transfer to Bayern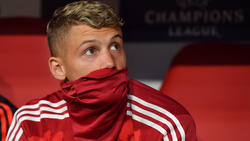 Max Eberl has commented on the fate of Mickael Cuisance, who after his move from Borussia Mönchengladbach to Bayern more games for the second substitution of the German football champion graduated as for the pros. The Gladbach sports director could not resist a small tip. "We told him three months that he would have stayed here better," Eberl taunted "Sport 1" in the direction of the 20-year-old, who had moved to Munich for twelve million euros in the summer, but last three times in the 3rd League had ran.
    
In Gladbach Cuisance could have continued to develop in peace, after he had previously "taken a great development on the Lower Rhine," said Eberl.In last season, it came to a phase, "where once the expectation is so great that he can not fulfill his own expectation ". Then he then had fewer missions, "but for me is completely normal in the development of a player," the manager looked back and added: "He still has a total of 50 games, as a 19-year-old, which is exceptional in the Bundesliga. "But that had been too little for Cuisance. "He did not want to be satisfied with that and had other goals in mind for himself, which he has now pursued." That's why Eberl let the 20-year-old – despite his "great potential" – finally pull out. It reached a point, "where we said: then rather have a clean squad".