FC Schalke 04: Nabil Bentaleb before U23 debut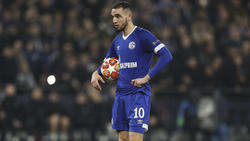 Nabil Bentaleb, who was eliminated from the pros, faces his debut for FC Schalke 04 U23 in the Regionalliga West. Calculated at the small Revierderby against Rot-Weiss Essen next Saturday, the midfielder could play for the team coach Torsten Fröhling for the first time.
    
One had to weigh, however, "whether it makes sense to start with such a game," said Fröhling opposite "Reviersport". Bentaleb was back in training just two weeks after undergoing knee surgery and rehab, "Usually, after such a long injury as Nabil had, she has four to five weeks of full training to be able to play again," said Fröhling Before the game against league leaders SV Rödinghausen on Saturday (1: 2) Bentaleb "signaled that he is not ready yet," said the coach. "If he plays, then he has to deliver, and the match against SV Rödinghausen was tough male sport." Bentaleb for the Schalke U23 on the ball? "He has to want that, of course." Bentaleb had already been penalized twice last season in the Schalke second representation. He was not used at that time. "He has to want that, of course, but as I assess him, he wants," said Fröhling. On Schalke Bentaleb has no future. A summer transfer to Werder Bremen was dashed at the last minute, also due to the injury of the 24-year-old. In winter, the Royal Blues want to make a fresh start to get the 2017 for 19 million euros brought by Tottenham Hotspur professional from the payroll.