Ferrari team boss Mattia Binotto sees no conflict between Sebastian Vettel and Charles Leclerc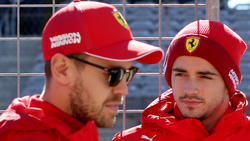 Ferrari team boss Mattia Binotto assures after the incidents of Brazil that the relationship between the two pilots Sebastian Vettel and Charles Leclerc is absolutely intact and better than it is often said. Both riders had clashed on several occasions this season, but the highlight came in Brazil when they both dropped out after a touch.
    
"We discussed all this, together and individually," says the Italian in a question and answer session before the Abu Dhabi Grand Prix. "I think they understood that was unacceptable." However, the list of disputes between Vettel and Leclerc is long: In Monza Leclerc gave his teammate in qualifying, not a slipstream in Singapore, Vettel wrested him victory over the pit strategy, and in Sochi, he gave after starting his leadership position not as agreed to Leclerc again. And then came Brazil.Binotto: "Truth is that they have fun together" Nevertheless, Binotto emphasizes that the two have a good relationship with each other: "The truth is that they have fun together and maintain a good and harmonious relationship – unlike you might be able to read or think it, "said the team boss. "You might think they are in conflict on the track, but that's not the case." Binotto recalls an incident from Suzuka – the race after the Sochi controversy. "The three of us were in a restaurant having fun, they even took each other's phones to see what photos they had on them, it's always fun, and it's nice to enjoy each other's presence." Both are also good team players and would provide a good atmosphere: "The team spirit is very important," says Binotto and says that they have improved this season. "That will help us in the coming year." But the truth is – as always – on the track.