Formula 1 | After cheating allegations: FIA confiscates Ferrari parts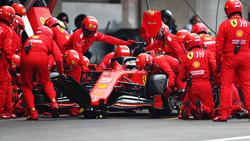 After the recent cheating allegations against Ferrari in Formula 1, the FIA ​​now apparently want to finally clear. As the magazine "auto motor und sport "reported, the World Motorsport Association confiscated during the Grand Prix of Brazil last weekend gasoline systems from three different cars.
    
Among them is a Ferrari, the car of a Ferrari customer team and one without Ferrari drive. The disassembled parts are gasoline lines that lie between the flow rate sensor and the engine. Just in this area, competitor Red Bull Racing had suspected trickery that gets more gasoline into the engine than allowed. Ferrari had been out since the summer break of Red Bull therefore submitted an official request for gray areas in the regulations, the FIA ​​then issued technical directives to make possible tricks official offenses. In the US Grand Prix Ferrari was then immediately clear then slower than in the weeks before. Last time in Sao Paulo things went better again, but there was no clear picture. The FIA ​​now apparently goes on the offensive and wants to compare the systems.