Formula 1: Mercedes trots (still) behind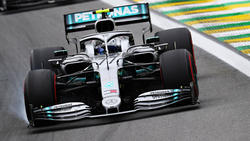 With the World Cup titles in the bag and without the boss on the ground, Mercedes in Brazil can supposedly take it easy. On Saturday in Sao Paulo it was not yet the day of the Silver Arrows: Valtteri Bottas and Lewis Hamilton only finished fourth and fifth in practice, so they still have some work ahead of qualifying on Saturday. "We were on one lap Something too slow, "technical director James Allison must admit," but on the long run it was neat. " But despite the less than optimal positions, the pilots were actually satisfied with the day: "Actually, it was a pretty good day," says Hamilton. "I did a lot in the session where we had nothing else to do."
    
What he means, leaves the Brit open, but he can not have meant the work in the car, because apart from a few installation rounds drove Hamilton in the first wet session not at all. "My team asked me to go out, but I thought it was pointless," he said. "Because it's supposed to be dry for the rest of the weekend, Hamilton did not see much purpose in keeping the car in the wet move. "If you do not have to risk anything, then do not do it," is the motto of the world champion. Ferrari a bit ahead. There were more representative conditions in the afternoon session. Hamilton was not dissatisfied with the car because it had a good base right from the start. "We made only minor adjustments," he says. "Tonight we'll do some fine-tuning, which is important, because we only have two sessions before qualifying." But that's not a problem for him: "Like I said, we got on the right foot so it should be okay be, "says Hamilton. "Whether we have the three-tenths of a second, where Ferrari is, but I do not know." And with that is already the question of the biggest competitors answered: "The Ferraris are pretty good this weekend – at least it seemed today so you have us It will be interesting to see how we can improve there. "Bottas promises: There is something else to come in. Also team-mate Valtteri Bottas has Ferrari thanks to the power unit on the slip, but he also wants to Red Bull Watch out. "The two will be back – but so are we," he announces. For although Mercedes was only in fourth and fifth place, there is still a lot in it: "We are quite competitive, we have not driven the qualifying time, but there is still something coming," he says.For him, the prospects are promising, as the positions testify. "Certainly," he nods. "Considering how the session went, it was not so bad." Because he had to fight on his run with traffic, after he had previously on the hard tires and the green track a few problems. The Finn would definitely say goodbye with decency from the season, just like Hamilton. For despite winning the title he does not want to take it easier: "I still want to win the races," he announces. "It's just as hard to win the races that are due." Missing lead Wolff makes no differenceThe only difference: He could now choose a more aggressive approach and try other things. "We basically have two free shots to try new things that might matter next year," said Hamilton. He knows that the test runs before the season have become even less, so it's an advantage if you still have can change something. "Hopefully this pays off in the coming year, that's our goal." By the way: The fact that team boss Toto Wolff is not there in Brazil makes no difference to him: "It's just a breath of fresh air," he laughs. "No, seriously, he has such a presence on the team that he's here himself when he's not here," Hamilton said. Because everyone on the team is so because of Wolff. "Everybody works normally here, it's just that you do not see him on the pit wall and not in the meetings, but I know he'll be in the debriefings and will be listening What we say, "he says. "I think everyone is doing as well as he can."