Furious Italians write 9: 1 history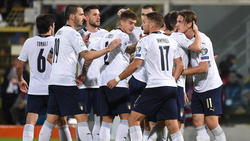 Italy's national football team has set three records at the end of the European Championship qualifiers. With a 9-1 (4-0) victory over Armenia, the Squadra Azzurra remained as first national team unbeaten in the 40th European Championship qualifier in a row.
    
In addition, the team of Roberto Mancini qualified for the first time in Italian history with the maximum points yield for an European Championship. Eleven victories in a row are another premiere for the European champion of 1968.More than nine goals scored the Italians also last at the Olympic Games in 1928 against Egypt (11: 3). The last defeat in the European Championship qualifiers Italy had on 2 September 2006 at 1: 3 against France. Failed remained in the qualification also Spain: In Wanda Metropolitano in Madrid, the host overwhelmed over-challenged Romanians 5-0 (4: 0) , Both Spain and Italy had previously secured the European Championship as Group winners. In Spain's Group F, Sweden won 3: 0 (1: 0) against Faroeer, thanks to Sebastian Andersson's lead from Union Bundesliga club Berlin the Scandinavians already secured their sixth European Championship appearance in a row. Teemu Pukki scores tenth in the tenth qualifying match Finland's national hero Teemu Pukki scored his tenth goal in their tenth qualifying campaign in a 1-1 draw in Greece (1: 1) The Finns had made their first EURO participation in the Italian group during the week. Greece thus secured third place ahead of Bosnia-Herzegovina, who drew 3-0 (1-0) in Liechtenstein. Norway, Bosnia and Greece can still hope to win the EM ticket through the back door of the Nations League playoffs In Palermo Ciro Immobile quickly made things clear: the ex-Dortmunder got the 1: 0 head (8) and put on only 63 seconds later the second goal by Nicolo Zaniolo. Then followed a shooting festival.