Hannover 96 loses against Kocak debut against Darmstadt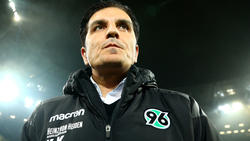 New coach, old problems: Even at the premiere of coach Kenan Kocak it has not been enough for Hannover 96 for the first home win of the current season. After a disappointing The performance was defeated by the Lower Saxony at the end of the 14th match day in the 2nd Bundesliga Darmstadt 98 with 1: 2 (1: 2) and could not leave Relegation Rank 16.
    
The fact that the guests took the lead with an own goal from center-back Waldemar Anton in the fourth minute was symptomatic of the current situation of the Bundesliga scorers. Although the North Germans were able to compensate in the 14th minute by Genki Haraguchi. But Tobias Kempe scored in the 29th minute to renewed lead for the Hessen.Schon after 45 minutes, the 22,100 spectators had lost patience with the home team, a whistling concert accompanied the 96 professionals in the cabin. Kocak also seemed annoyed by the achievements of his charges and disappeared immediately in the catacombs. The 38-year-old is after Andre Breitenreiter, Thomas Doll and Mirko Slomka already the fourth coach at Hannover in this calendar year. Maybe the match would have taken a different course, if 96-striker Hendrik Weydandt had met after 34 seconds for the hosts by header. But especially in the first half, the team seemed confused and unimaginative. On Saturday, it comes for the "Red" now to the northern duel at FC St. Pauli.Stendera meets – but the compensation does not countNechnically changed after the break little on the action on the wet lawn. Despite Feldüberlegenhelt Hannover hardly came to a conclusion, only Marvin Ducksch had a margin (55th), but drove the ball over the crossbar. Kocak responded to the misery and replaced Edgar Prib by the more offensive Emil Hansson (58.), but this also brought no decisive turn. Excitement then just before the end: a supposed dream goal before Hannovers Marc Stendera (87) was with the help of the VAR withdrawn because the ball had previously hit the back of referee Martin Thomsen. Stendera (90. + 2) also saw yellow-red because of unsportsmanlike behavior.