Hope for BVB? Manchester United finds Mandzukic alternative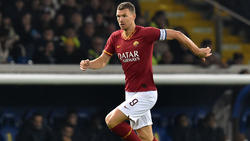 Changing course at English record champions? According to a media report, Manchester United may refrain from a possible commitment from Mario Mandzukic and instead hunt down former Wolfsburg striker Edin Dzeko. After the weak start to the season with just four wins from the first twelve games, the officials have already announced personnel in winter want to refuel. Vice-World Champion Mario Mandzukic has been the number one contender so far, but now the club bosses seem to have changed their plan.
    
As the US broadcaster "ESPN" claims to have learned from its sources, ex-Wolfsburg striker Edin Dzeko has passed Mandzukic's wish list on the Red Devils wish list. The Bosnian is still under contract to AS Roma until 2022 and has come in the current season so far in 15 official games used (six goals). The alleged reason for the change of course of the English record champion: Mandzukic lacks the match practice. The Croatian has not played a single competitive match under Juve coach Maurizio Sarri and is on the sidelines since the beginning of the season. What should also speak for Dzeko: The 33-year-old has already gained Premier League experience. For four and a half years, the Bosnian was under contract to Manchester City before moving to Rome. Although ManUnited wants to focus more on young players in the future and no longer commit aging professionals, club head Ed Woodward would make an exception according to "ESPN" in this to increase the chances of the Champions League qualification. Also for the BVB the rethink of the Red Devils could follow. The Dortmunder have been associated with a commitment by Mario Mandzukic for several weeks. If a financially strong competitor withdraws from the game with United, this would probably counter the black and yellow.