"I do not need new players"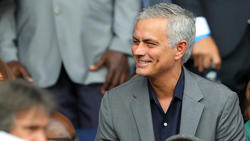 Honest self-criticism and a deep bow to its predecessor: José Mourinho introduced himself to Tottenham Hotspur as "The Humble One" (The Humble One). Humble enough to analyze my career and the problems, "said the new team manager at his presentation on Thursday. He said he was" solely responsible "for his mistakes in the past. The old mistakes would not be undermined: "I'll make new mistakes."
    
Mourinho has signed a contract with the Champions League finalist until 2023. He inherits the dismissed Mauricio Pochettino on Tuesday night. "He'll find his luck again, he'll find a great club again and have a great future," Mourinho said of his predecessor, who traded at Bayern Munich, among other places. "I do not need new players." He himself has had two days a smile on his face, stressed Mourinho – he had been officially confirmed as new coach only on Wednesday morning. "This club is big and potentially a great job," he said. The eleven-month break after his release from Manchester United had done him good, although he initially felt a bit "lost". Recently Mourinho had worked as a TV expert. "I know you would have loved to keep me," he shouted to a television reporter, "but this is my life!" Mourinho's big ego completely hindered him from behind. "I can not come here and say it's all about me, it's about the club and the players," he said. Also, he will not push for transfers: "I do not need new players, I need time."