Ice Hockey | DEL: EHC Munich wins top match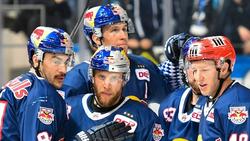 The Kölner Haie have shot the arch rival Düsseldorfer EG with a victory in the 225th Rhenish derby into the sporting crisis. On Friday evening, the sharks won 4: 1 (3: 3). 1, 0: 0, 1: 0), took the third win in a row and scored in the seventh game in a row.
    
Lucas Dumont (8th minute), Frederik Tiffels (10th), Benjamin Hanowski (16th) and Jon Matsumoto (46th) scored the goals for coach Mike Stewart's team, which is getting better and better after a weak start to the season Points (34) drew the Cologne, who had also already decided the first saisonderby for themselves, after 22 games in the table now equal to the DE.Den Dusseldorf helped before 13,205 spectators and the 500th scorer point by Alex Barta not. The ex-national team scored the DEG goal to 1: 3 (20) .The DEL top game of the evening won the EHC Red Bull Munich against the Straubing Tigers and thus expanded the championship lead. Five days after the 4: 6 in Ingolstadt prevailed the vice-champion in the next Bavarian state duel with 3: 1 (0: 0, 1: 0, 2: 1) by and built with 57 points, the lead on the second placed Straubing on 13 counter aus.In the high-class game was it striker Christopher Bourque, who shot Munich in the second third in the lead (25th). Daryl Boyle (54th) and Patrick Hager (56th) made the decision. For the Tigers met Marcel Brandt (57). Sporting further down it goes for the financially ailing Krefeld penguins. They conceded with the 1: 4 (0: 1, 0: 2, 1: 1) against the Eisbären Berlin the third defeat in the series and slipped to the penultimate place in the table. The Krefelder also fear for their future in the DEL, one Capital increase is at least to save the current season. The Iserlohn Roosters ended by the 5: 1 (2: 0, 2: 1, 1: 0) against the Fischtown Pinguins Bremerhaven their defeat series of four games. Ingolstadt had no problems at 6: 3 (4: 0, 2: 0, 0: 3) against taillight Schwenninger Wild Wings. The Nürnberg Ice Tigers defeated the Augsburger Panther 5: 4 (2: 1, 1: 1, 1: 2 , 0: 0, 1: 0) after penalty shootings, but slipped behind Berlin in fifth place.