"It does not like being replaced"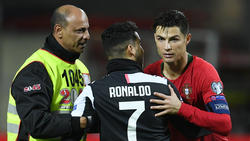 Portugal superstar Cristiano Ronaldo admitted after being in trouble over early substitutions to Italian football champions Juventus Turin that he was not physically fit. "I was not at 100 percent and still it is not, "said the five-time world footballer after the 2-0 in the European Championship qualifier in Luxembourg," in the last three weeks, I have played with slightly reduced performance. "
    
The 34-year-old had dropped out of the stadium early one week after Juve's 1-0 win over AC Milan, as he was replaced by coach Maurizio Sarri shortly after half-time. Already in the Champions League match at Lokomotiv Moscow (2-1), the 60-year-old had taken his scorer prematurely from the field. "When it comes to sacrificing myself for my club and my national team, I do it with pride," said the European champion of 2016, but also admitted: "I do not like being replaced, nobody likes that, I tried to help Juve as well when I was injured." Sarri had a "small" after the Milan match Knee problem "spoken. In Luxembourg Ronaldo scored his 99th international goal, to the world record of Iranian Ali Daei he only lacks ten goals.