Krawietz and Mies start narrowly in victory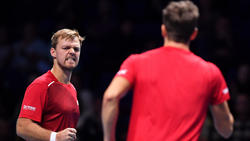 Kevin Krawietz and Andreas Mies won the first group match at their premiere at the ATP Finals in London. The duo from Coburg and Cologne won the group " Max Mirny "on Monday against Jean-Julien Rojer / Horia Tecau (Netherlands / Romania) after so-called match tiebreak 7: 6 (7: 3), 4: 6, 10: 6 by.
    
Thus, the French Open winners have made a first step towards the semifinals. In the further course, it gets the German top doubles now with the Colombians Juan Sebastian Cabal and Robert Farah, reigning Wimbledon and US Open winners and world number one, and with the Frenchmen Nicolas Mahut and Pierre Hugues-Herbert, in January at the Australian Krawietz and Mies had been a little hesitant against Rojer / Tecau at the beginning, after they had taken a break to make it 2-4 up. In the tiebreak the duo acted then dominant. In set two, they then ran behind an early deficit ultimately unsuccessful, they could then rely on their nerves strength again in ten points played match tiebreak.Nach Jürgen Fassbender and Hans-Jürgen Pohmann 1975 are Krawietz (27) and Mies (29) the second purely German double at the traditional year-end event. Together they won the title in Paris and the indoor tournaments in New York and Antwerp, at the US Open they reached the semi-finals. Davis Cup team boss Michael Kohlmann nominated the duo for the final tournament in Madrid (18 to 24 November).