Laura Dahlmeier finishes Mountain Running World Cup in the Top 30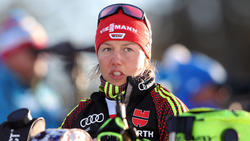 Biathlon Olympic champion Laura Dahlmeier has finished her debut at the Mountain Running World Championship in 27th place. Eight months after her last World Cup race on the track The 26-year-old Bavarian mastered the 42-kilometer distance with a difference in altitude of 2100 meters in 4:20:27 hours. The title went to Romanian Cristina Simion in 3:49:57 hours ahead of French Adeline Roche and Blandine L'Hirondel.
    
It was more or less "by chance", Dahlmeier had said before the competition about her new sporting adventure. "I first had to google what it is and then I said: why not? To represent Germany internationally is always something very special." The ex-biathlete from Garmisch-Partenkirchen was the most prominent athlete in the German mountain running team , who had a twelfth place of the Siegburger Moritz Auf der Heide at the competitions in the Argentine Villa la Agostura. Two years ago, the German last year's champion finished seventeenth place at the World Championships in Italy. The world champion was the American Jim Wamsley.Dahlmeier felt it had already been nominated as "Award for a winter sportswoman for a summer sports World Cup" before her start. Unlike biathlon, she had not felt pressure before the exhausting race through the mountains of Patagonia.