Lewandowski laments missing leaders at the record champions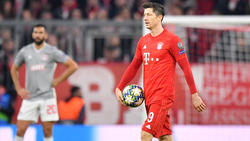 Goalkeeper Robert Lewandowski has named a current problem at FC Bayern Munich ahead of the League summit against Borussia Dortmund. "An axis consisting only of Neuer and Lewandowski is too little, "said the 31-year-old Polish football player before today's game in the" Süddeutsche Zeitung ".
    
"In every part of the team, in every line there should be a leader: goalkeeper, defender, one from the midfield, one from the offensive, that would be perfect, there can not be one player to lead all, that's too much, that's impossible", explained the attacker.Lewandowski misses "commands" from more players on the court. He tries to animate the younger teammates. "The young players are of course a little reserved, or they have a problem with the language, but I know that two, three months in one country are enough to give command, and you have to expect that!" Young players have "a bit afraid to talk" Lewandowski raises the thesis that the young generation of players would need more announcements, because they know that from the junior academies so. "If you're accustomed to instructors from a young age, you lose the individual things, your own thinking." Today, the young players "a little bit afraid to speak, maybe it is: no desire," said Lewandowski: "That is a generation that writes a lot of SMS, communicates a lot on the internet, it does not talk on the phone, it's just a different culture. "