Nagelsmann would like to train Cristiano Ronaldo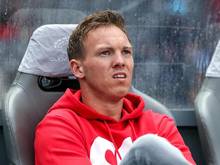 Julian Nagelsmann would like to train football superstar Cristiano Ronaldo. The coach of RB Leipzig commented on this unusual wish in the program "Wontorra on Tour" of the pay-TV broadcaster Sky. "I would like to know how he trains, I've heard a lot about how professional he works, how he stays healthy for many years, is fit, and still has a good quota – even though she is not as good at the moment as she was three or four years ago, "Nagelsmann explained. An exciting question for him is how the three-time world footballer "can perform at this level for so long".
    
The special thing about this constellation would be that he was two years younger than the star player of Juventus at 32 years old. Of course, the "likelihood to zero" tends once again to come to this unusual situation.