National coach dares Jungfleisch and Onnen 2.00 m mark to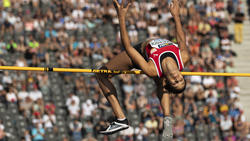 With a laughing and a crying eye national coach Tamas Kiss looks back on the World Cup year 2019 in women's high jump. In contrast, "Leichtathletik.de" Kiss first emphasized the positive aspects of the World Athletics Championships in Doha: "It was gratifying that we with Imke Onnen and Christina Honsel two athletes at Imke has done very well there, especially in the qualifying she has done a great job, for Christina the participation was a success, she was invited at short notice and could sneak into a World Cup and gain experience for the future. "
    
On the other hand, the Hungarian quarreled with the World Cup cancellation of the German series champion Marie-Laurence Jungfleisch, which he coaches for many years as a home coach: "Negative was, of course, that Marie-Laurence Jungfleisch had to cancel their participation due to injury was in a good mood before that, she too would have been a final candidate, "said Kiss, who is nevertheless" quite satisfied "with the balance sheet at the top. Looking ahead to the upcoming Olympic Games in Tokyo and the European Championships in Paris, high-jump coach Kiss has set the targets for his top athletes: "2020 is a very important year for us and I hope Imke Onnen's ascent goes on and on can develop in the direction of 2.00 meters, I expect similar from Marie-Laurence Jungfleisch, as soon as she is well again healthy It would be gigantic, if we could be in the Olympics with three athletes, of which at least two also Final I do not even want to talk about a medal, but if you can be part of it with a white vest for as long as possible, then there are many things you can do. "He also referred to aspiring high jump talents who will also be next year "We want to continue to develop the hopeful junior athletes, for example, Bianca Stichlin g, who has injured herself badly this year, but is very talented and reliable. Or to Lavinja Jürgens, who has been successfully involved in the junior classes internationally for several years. They will both move into the Active Class next year. "