Niko Hulkenberg's IndyCar entry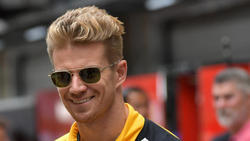 The rumors of Nico Hülkenberg's IndyCar entry lasted a long time after his Formula 1 finish, but now Ed Carpenter has stopped this speculation. The IndyCar Team plans to sign Rinus VeeKay as a full-time start number 21 driver. The team owner made clear that Hülkenberg will not be the round-course driver in the start number 20.
    
"Next year, I'm going to race # 20 on ovals again," says the three-time Indy 500 pole-sitter to Motorsport-Total.com. "Every year there are rumors that I'm going to stop, but there's nothing in it, we'll confirm the second driver in this car around Thanksgiving, but it's not Nico Hulkenberg," Carpenter clarifies. The veteran IndyCar explains why the Hulkenberg speculations said, "These rumors are a bit out of control, although none of us said anything, I've talked to Nico a few times, he was intrigued to get a chance in the IndyCar series, but the timing was For him simply not the right thing. "According to Carpenter Hülkenberg does not want to get into the American formula series, just to gain some time. As long as the German does not rule out a Formula 1 return in 2021, he probably will not travel across the pond to switch to the IndyCar series. Carpenter says: "He has to decide if he really wants to go through a change and But he is not there yet. "The team manager also makes it clear that the second driver in the start number 20 has already been found, but some details still need to be clarified. He is also working on the partnership with Scuderia Corsa, which will continue in 2020. "We and Scuderia Corsa have the intention to continue together," says Carpenter.