Niko Kovac picks up stars in last speech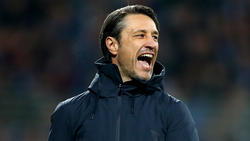 At his last speech as coach of FC Bayern Munich, Niko Kovac has apparently pulled off the leather again and practiced massive criticism of the stars of the record champions. Kovac showed "Bild" information on Sunday morning, just a few hours before the end of his term in Munich, a total of 25 game scenes from the bitter 1: 5 debacle at Eintracht Frankfurt the day before. The Croat has criticized the professionals by name for their mistakes.
    
Serge Gnabry has accused Kovac of losing too many balls, while at Kingsley Coman the Croat criticized his lack of commitment. Also, Jérôme Boateng's early red card because of an emergency brake ("You have to do much cleverer in the situation") and the style of Thiago ("Thou shalt not conjure") mentioned Kovac explicitly in his furious speech. In addition, the 48-year-old complained about the defensive Behavior of his team ("We outnumber the back and get goals"). In addition, Kovac ranted, "You are not listening, we are discussing and training things and you are not putting them down." At 9:45 am, the general statement is said to have occurred after the disastrous performance in Frankfurt. At 20:52 clock FC Bayern announced the separation of Kovac after he had offered the person in charge his resignation. Against Olympiakos Piraeus in the Champions League and in the Bundesliga top match against BVB supervised Kovac former co-coach Hansi Flick interim the team.