Number 7 in the sights! Lewis Hamilton blows to chase Michael Schumacher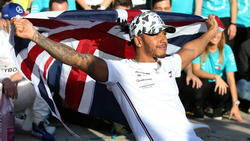 5866 days after the 2003 World Cup finals in Japan, in which Michael Schumacher prevailed in the Ferrari against Kimi Räikkönen in the McLaren, becoming the first sixfold Formula Lewis Hamilton in Austin also writes history. The Briton wins his sixth title prematurely with the second place and rises ever higher in the Olympus premier class. Only Schumacher is one step ahead of him. "It has never been my goal to catch up with Michael, I have never thought of the records," Hamilton remains humble even after winning the title in the USA. The glorious Ferrari records have meanwhile set a little dust. There would never be an even bigger pilot than Michael Schumacher, they thought in 2003.
    
But now Hamilton is well on his way to outdoing the Invincible. Already in the coming season, the Mercedes driver with a similarly consistent track record as in 2019 could not only equalize the seventh world title, but also set significantly more Schumacher records. Hamilton: "I still can not believe that!" "I thought It was always too far-fetched to even think of getting close to Michael, I had only one title for a long time, then I made the second, that was so far away, now it seems to be reaching but it is still so far away. "A look at the statistics shows that he is closer than he believes. If he repeats his performance in the coming year, then he will have more race victories than Schumacher to book. He is currently 83, with Schumacher reaching 91. With an average of 10.2 victories per season since 2014, Hamilton will surpass that mark in 2020. His victory rate is already better than that of the record champion: Schumacher was able to win 29.74 percent in 306 race launches, Hamilton is currently at a rate of 33.47 percent. However, most of the victories in a season continue to belong to the German. Schumacher struck 13 times in 2004, Sebastian Vettel did the same in 2013. Hamilton's best time so far is eleven victories per season (2014, 2018) .72 of his 91 successes, Schumacher was able to clinch alone with the Scuderia Ferrari. The dream team with Ross Brawn and Jean Todt was long considered an ideal constellation. But Hamilton is about to set this record again next year, with 61 wins with Mercedes he already holds. "I still can not believe that," he breathes. "If you think about the challenge of the next season, then you have to consider the outstanding achievements of others, especially those in the second half of the season." A Sunday stroll will not be the seventh title. Shumi Records threaten to fall "So it will take an incredible amount of performance and work from me and my team, but I do not want to think about that at the moment." While Hamilton savored his triumph, Toto Wolff remains realistic: "There is a reason why the Schumacher record still holds, simply because it is very difficult." The Viennese are convinced, however, that Hamilton in a competitive 2020 car "We will continue our work and minimize our mistakes, and if he drives a good season, there is no reason why he can not get the seventh title." Not only could he equalize the magic number seven and most Victories, but also most of the podium finishes. Currently Hamilton is at 150, Schumacher was 155 times climb the podium. With an impressive podium quota of 60.48 percent, this should be easy for him.14 times in his career Hamilton has so far been the perfect weekend, also called "Triple". These include the pole position, the fastest race lap and the race win. Schumacher accomplished this feat a whopping 22 times – but he has to stretch in 2020. For most of the listed races, the new champion is already in the lead (146: 142), but not in the lead laps (5,111: 4,421) and in the lead kilometers (24,110 : 22,380). Also achievable: most of the results of the points (221: 211). Two Schumacher record will certainly not crack Hamilton in 2020: those of the most fastest race laps and the longest winning streak after years. He currently has 46 fastest laps (Kimi Räikkönen on the same time), while the German rider has a strong 77. Schumacher also won at least one race for 15 years in a row. Hamilton will be at 13.Wolff in 2019: 7th Hamilton title "would be fun" People just need new challenges in order to be able to maintain their level of performance, the Mercedes team manager knows. Wolff describes concrete goals, in the Hummton case the Schumacher records, in an exclusive discussion with 'Motorsport-Total.com' even as "essential." "If you run out of goals, you have to do something else," he is convinced. Therefore, the team boss wants to give his protégé the greatest possible support for his project. If there were not these common goals with Hamilton, then Wolff would not stick to his role just for the sake of recognition. "At the moment, there are a few supposed goals that I could enjoy," he notes, and then directly He also admits: "One of them would be a seventh title for Lewis." Incidentally, even a record of his great idol Ayrton Senna Hamilton could be set soon. Those of most start-finish victories (victory plus each round). As the 34-year-old is currently at 18, Senna managed this feat 19 times.