Rafael Nadal celebrates spectacular comeback victory in ATP Finals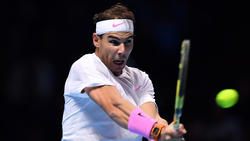 Rafael Nadal has at least averted a preliminary round at the ATP finals in London after a spectacular comeback. After his opening defeat against defending champion Alexander Zverev the Spaniard on Wednesday in a reissue of the US Open Finals the Russian Daniil Medvedev 6: 7 (3: 7), 6: 3, 7: 6 (7: 4). In the third set, he had fended off a match point at the score of 1: 5.
    
Thus, the world number one seed Nadal before his final group match against the Greek young star Stefanos Tsitsipas on Friday still have any chances to move into the knockout stage. The elite tournament of the eight best of the season is the only major title missing from the 19-time Grand Slam winner Nadal in his collection. The winner in London's o2-World can win up to $ 2.9 million and 1500 world ranking points.