Sebastian Vettel reveals details Hamilton Congratulations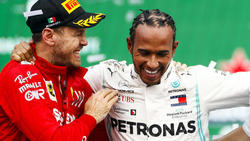 Sebastian Vettel was one of the first well-wishers in Austin. After his failure due to a breakage of the suspension, the German had to watch the race in front of the TV. When it became clear that Lewis Hamilton will crown himself the six-time world champion, he immediately went to the British. The fair gesture was captured by the TV cameras in the live broadcast, which irritated Vettel in retrospect. "I had nothing to do during the race, because I was pretty bored," Vettel admits to the scene addressed. "It was pretty clear he was going to fix the title so I wanted to go over and congratulate him."
    
In the famous "cool-down" room, drivers are weighed after a race, and they can rest and refresh themselves before the podium finishes. A cameraman is also present in the room at each race to capture heated scenes or small gestures from the drivers. "I did not realize anyone saw that, so I thought I'd find a quiet spot for it, probably less calm than myself thought, "Vettel has to smile in hindsight. With this gesture he underlined the respect he shows the British. Vettel praises Hamilton: "A driver sportsman" Already before the weekend Vettel noted, one must be "a fool", if one could not congratulate Hamilton on the title. "Lewis is a fair sportsman, he had a great year," he adds before the race in Brazil.The Mercedes rival was pleased about the small gesture of Vettel. While it does not encourage others to recognize it, it does honor such respect. "This is an honor, especially with Seb, whom I value so much for his abilities." This rivalry is "really great." "Because each of us knows how difficult this sport is, 20 riders know how hard it is to do it, and very few of us how difficult it is to win consistently. Seb is one of them. " But the four-time world champion was not the only driver to congratulate Hamilton on winning the title. Even his former archrival at McLaren, Fernando Alonso, said, "I got a message from Fernando, that was pretty great, so I'm very grateful had a difficult time together, but honestly, I always had a lot of respect for him and his abilities. "