Serie A: Juventus struggling against Milan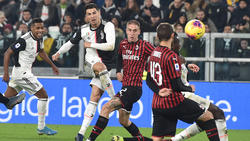 Juventus's Paulo Dybala's late goal saw Juventus win its tenth victory of the season in Serie A and defend its lead in the championship. The series champion defeated AC in the contested prestigious duel Milan 1-0 (0-0) and remains one point ahead of Inter Milan leaders in the Italian Football Championship. Milan is now Table-14. and is stuck in the lower midfield.
    
The Juve team led by superstar Cristiano Ronaldo and the two German pros Sami Khedira and Emre Can, who sat only on the bench, did not fight against strong Milanese long. Only the Argentine Dybala redeemed Juve in the closing stages (77th minute). Inter had already prevailed on Saturday with 2: 1 (0: 1) against Hellas Verona. For the Turin, who are aiming for their ninth championship title in succession, it was the tenth victory in the twelfth game.