"So we may never perform again"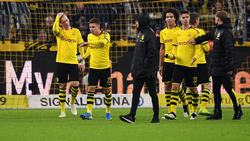 After a desolate first half and a 0: 3 deficit (!) Against SC Paderborn BVB rescued on Friday evening for the start of the twelfth Bundesliga match day one more Point! A 3: 3 draw against the bottom of the table is too little for the claims of the self-proclaimed title candidate and the fans on the South Stand, the team around coach Lucien Favre adopted with a shrill whistling. After the match, coach and sports director of Dortmund still related bewildered by their own performance position for near-embarrassment against the SCP. The voices to the game:
    
Lucien Favre (BVB coach): That was a disastrous first half of us. We get three goals. It was amazing. We will analyze this thoroughly. Things can not go on like this. "" Marco Reus (captain BVB): "We have to apologize to all the spectators in the stadium for our performance, I do not know what we did in the first half, so we can never go back like that We definitely have to and we will definitely talk about that, we did not get away with a black eye, we got it right, the coach always hires us well, but we do not get it on the pitch We have to talk about it, not about our coach. "Michael Zorc: (Sporting Director BVB):" Please understand that today I do not say much except that the first half was completely unacceptable and that you apologize to the spectators tomorrow is also a day. "Steffen Baumgart (SC Paderborn 07):" Of course, if you look at the last ten minutes, it's a pity, but I think my team has everything inves did what was possible. Each player was exhausted in the end. Then it is a pity that we finally get the compensation, but it was not undeserved. What we can do, we have proved today. Sstreli Mamba (scorer SC Paderborn 07): "You can not pull out and praise individual players, because the whole team is always a good performer, the victory was in it, but us We could also settle for the point, our plan came off very well in the early stages and the end was obviously unfortunate, but we have to take the positives and build on that. "Gerrit Holtmann (SC Paderborn 07):" We would have before the match In the second half we ran out of steam, but still this point helps us in the relegation battle We did not really do it, but we can not change that, but I still think we'll win some more games n become. "