Successor of Lucien Favre: Further track leads to former coach Daniel Farke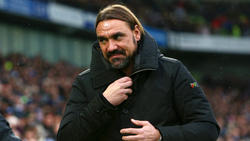 Borussia Dortmund is in the Bundesliga its own claims behind. The coach chair by Lucien Favre wobbles like never before. The "kicker" and the "Süddeutsche Zeitung" now bring a possible successor to BVB into the game. According to the daily, the name Daniel Farke makes the rounds internally. The journal had reported just two weeks ago, Farke would be a suitable candidate to take in the event of a dismissal Favres the place in the runner-up in the preseason.
    
The 43-year-old is well known at the Revier club, coached the second team of black and yellow between 2015 and 2017. With Far BVB the "kicker" report according to again a coach, "their footballing identity" mediate and an "active , intense, fast, emotional "football experience. Farke looks after the British club Norwich City since summer 2017, managed the sovereign promotion to the Premier League with the "Canaries" last season. Norwich is currently only ten points in the table cellar, Farke heard according to a "BBC" survey nevertheless to the most popular team managers of the league. His contract is there until 2022.The pressure on coach Lucien Favre of Borussia Dortmund has further increased by the defeat at FC Barcelona (1: 3). At Hertha BSC a victory must come from.