This is the current status in Marco Reus' injury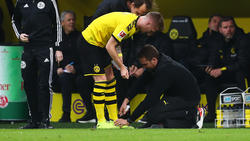 For more than a week Marco Reus is missing in the team training of BVB. The captain continues to suffer from his ankle injury, which cost him including the two DFB internationals. This is the current status of his medical record. As reported by the "Ruhr Nachrichten", Reus is scheduled to come on Friday in the Bundesliga against SC Paderborn only for a short-term use. The main thing is to test how the ankle reacts to the competition load.
    
If everything goes according to plan, the playmaker can participate again the following Wednesday in the Champions League. This would be enormously important from Dortmund's point of view, after all, it is against FC Barcelona for important points in the fight for the knockout round ticket. Reus had suffered the injury in the Bundesliga match in early November against VfL Wolfsburg and had at that time after not even half Hour to be replaced. In the premier class against Inter Milan paused the 30-year-old, in the top match against Bayern, he was initially on the bench and was only a substitute. The internationals Reus, however, completely off. While the majority of his teammates are traveling with their national teams, trained Reus in Dortmund individually.