"Will continue in peace with Hansi Flick"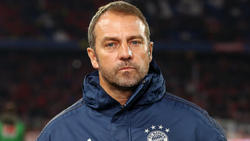 Hansi Flick remains after the convincing success over Borussia Dortmund first continue coach of Bayern Munich. "We'll continue with Hansi until further notice, he has done well now and he has our confidence," said CEO Karl -Heinz Rummenigge after the 4-0 win over Borussia Dortmund. "Hansi said before the game, the two games are now the finish line first, he crossed the finish line brilliantly today." Now you can continue with Flick on, said Rummenigge. You have to give the coach a "big compliment".
    
The commitment of Flick as successor to Niko Kovac was initially intended only for the games against Olympiakos Piraeus (2: 0) and Dortmund. "We are satisfied with how we performed today," said Rummenigge after the dominant appearance against BVB. In two weeks in Dusseldorf Flick will be after the international break so the third time in the responsibility. How long the Munich plan with Flick, said Rummenigge not. Also, not what that meant for the coach search of the German football champion. "What we do, I do not want to comment in public," said the Munich CEO.Flick praises the players of FC BayernLaut the coach, there are so far no collusion with the Bayern bosses on a possibly long-term employment as a coach at the football champions record "No, they do not need it," said Flick on TV channel "Sky". "I enjoy a nice bottle of red wine with my wife tonight, my family has arrived, it suits me, I'm satisfied." The 54-year-old, who had become world champion Joachim Löw's assistant in 2014, praised the gala in Munich Allianz Arena express its players. "They showed today that they can really celebrate football," Flick said. "The team knew it was their duty, and it did it well."