Zlatan Ibrahimovic has not stopped yet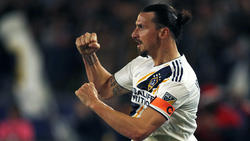 Swedish striker Zlatan Ibrahimovic has said goodbye to the Los Angeles Galaxy MLS club, but at the same time hinted at the continuation of his career: "I came, I saw, I conquered," the 38-year-old wrote on Twitter. "You wanted Zlatan, I gave you Zlatan. You're welcome, the story continues."
    
Ibrahimovic missed the semifinals in the championship battle in his final game for Galaxy, losing 3-3 to city rivals Los Angeles FC. In two seasons, Ibrahimovic scored 53 goals in 58 games. According to media reports, a return to Europe is possible, the SSC Napoli with the former Bayern coach Carlo Ancelotti should be interested. But his former clubs Inter Milan and Milan are also interested in short-term employment.