Ante Rebic asks the SBU to return in winter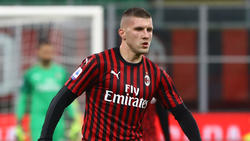 In early September, Ante Rebic Eintracht left Frankfurt for Italy. At AC Milan, however, the Croatian has to settle for a role as a bank press. A premature return to the Bundesliga may now be imminent. As reported by the "sempremilan.com" portal, the Rebic consultants have contacted the Eintracht bosses. It should have been about a possible return in winter.
    
Rebic wants to recommend itself for the upcoming EM next summer, for this the attacker needs practice. The 26-year-old does not get them from Milan at the moment. Rebic has only appeared on Serie A seven times, only once of which he was allowed to start from the start. For the Italians, the vice world champion of 2018 was never able to score a goal let alone prepare one. Has Ante Rebic "gambled"? Rebic is actually still on loan to Milan until 2021. The two clubs have not agreed on a purchase option, and it does not seem very likely that Rebic will actually return to Eintracht in winter. His last-minute change was not very well received by the Frankfurt management. "He absolutely wanted to leave because he had the feeling that he was the only one of the three strikers to get stuck at Eintracht. Now he's sitting outside – gambled! And it won't be easier for him," said supervisory board chairman Wolfgang Steubing to "Sport Bild ".