Aubameyang Places Loo-rest during the Game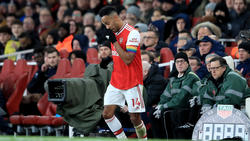 Fans of Arsenal FC in the stadium and spectators at the TVs rubbed their eyes in surprise on Thursday night. Not only because the Gunners defeated Brighton & Hove Albion 1: 2 ten minutes before the end of the match but also because former BVB professional Pierre-Emerick Aubameyang had suddenly disappeared from the field – without being substituted. "If you have to, then you have to": this is what Aubameyang must have thought as he started to run towards the players' tunnel minutes before the final whistle and disappeared, even though his side were just behind.
    
Only a short time later, the striker returned, but could not prevent the defeat of the club no longer. Speculations quickly shot to shreds: Was the Gabonese actually in the bathroom? Why could not the 30-year-old wait until the end of the game? Freddie Ljungberg later provided more or less for clarification, although he himself had not noticed that his attacker had left the field. "I just saw him suddenly come back after he disappeared," revealed the Gunners' interim coach. "He ran out and came back two or three minutes later," Ljungberg said. "If you feel uncomfortable, then you feel uncomfortable, because you can not do anything", hinted the 42-year-old a visit to the toilet of Aubameyang. However, after his return from the quiet village of the striker could change nothing more on the score. After the 1: 2 home defeat of the Arsenal FC is beaten from the top group in tenth place in the table.