Basketball: Bayern misses embarrassment against Kellerkind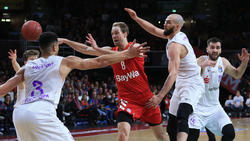 The basketball players of FC Bayern Munich have been able to prevent a negative surprise in the Basketball Bundesliga with great difficulty. The still undefeated championship leader won thanks to a successful three-point Throw of Petteri Koponen with the final siren against the relegation-threatened BG Göttingen with 82:81 (34:37).
    
With 22: 0 points, the German champion remains unchallenged at the top. Former NBA Pro Greg Monroe convinced with the Munich with 22 points. Alba Berlin has to shiver in Bayreuth too. For a long time, runner-up Alba Berlin saw a trouble-free success at medi Bayreuth in the 82:78 (45:34). The Euroleague participant led 15 points ahead of them, but the hosts shortened to 62: 66 shortly before the end of the third quarter. The capital club kept their cool in the final round and had their best marksman with international player Niels Giffey, who scored 15 points.