Bayern | "Nonsense": Bayer Leverkusen reacts to taunting by Lewy consultants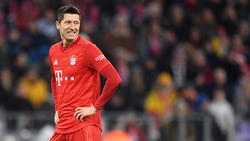 Around the 1: 2 defeat of FC Bayern Munich against Bayer Leverkusen, it came on Twitter to a small banter between the Werkself and Bayern Striker Robert Lewandowski. Now, the adviser to the Polish put in. "We had previously mentioned that the scouting department of Bayer football had considered this striker as not eligible for the Bundesliga and therefore has refrained from a commitment, but make fun of it," said Maik Barthel per twitter. His statement was provided by the consultant with the Twitter exchange between Lewandowski and Leverkusen, who had previously become a hit on the net.
    
After his wicked record series, Lewandowski scored in each of the first 12 league games, and a four-pack in the Champions League against Red Star, the fastest in the history of the competition, the star striker had "I must confess something … I'm dependent on the goal shooting" thunderstorms. However, Lewandowski did not have a goal of his own against Leverkusen. The Rhinelanders therefore responded to the post: "We can help you with the healing." While the joke was received by the majority of the network community extremely positive, Barthel seems to be less amused. His reaction is not good, though. "Kindergarten", "If you have no sense of humor" or "Totally free of humor" are the comments under the post. Leverkusen's management did not respond. While sporting director Rudi Völler did not want to comment, the former Bayer CEO Wolfgang Holzhäuser told "Bild": "Lewandowski has never been a concrete issue with us." That we should have denied him the Bundesliga opportunity, is absolute nonsense. "