Before duel with BVB in the Champions League round of 16: Thomas Tuchel with anticipation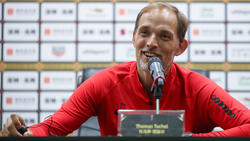 The games in the Champions League round of 16 are really tough. Borussia Dortmund are up against Paris Saint-Germain. For the PSG coach, the duel against BVB is anything but ordinary. At the Paris Saint-Germain press conference before his team's guest appearance in the round of 16 of the League Cup in Le Mans, the German said: "The game against Dortmund will be a special one for me To be in the round of 16, especially in such an extraordinary stage. "
    
At two months there was still a lot of time in between, "especially in football", as he emphasized, but the anticipation for this duel was great. "I trained this club for two years and still have a lot of friends there. It will always be something special to go back there. They are a big team in Germany and playing in Germany is always complicated." For the 46-year-old is it was the first meeting with the Westphalian since he left the club in summer 2017. After a year off, he joined the French club in summer 2018 and became champion in summer 2019. He and PSG also won the French Supercup twice.