Benedikt Doll on biathlon prelude: "Not such a great start"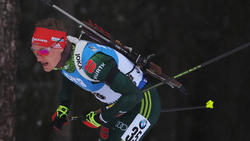 Ex-World Champion Benedikt Doll has taken the German biathletes after their mixed start to the World Cup winter in the duty. "It's not like that Great season entry, you have to say so honestly, "said Doll at the World Cup opener in Östersund:" But we are not worried, because we have trained well, but we have to get it now. "
    
The Black Forest Doll was still the best of the six DSV skiers in Sweden after 20 kilometers in difficult conditions and 16th, while four French led by Martin Fourcade took the first four places in the individual. "The French have done it with a great team performance and of course we want to do that, we work on it," said Doll.The next chance for a strong race offers itself on Saturday (17:30 clock) with the season. "If I'm allowed to run in the relay, I'm super motivated," said Erik Lesser. The former World Champion from Thuringia was only 72 with a big gap in the singles. "Everyone was a bit shaken and we did not show each other from the best side", Lesser said: "At the moment I am assuming that this is only possible was a slip-up. "Also Philip Horn (27), Johannes Kühn (41) and Simon Schempp (53) were hopeless in the battle for the top positions. World Champion Arnd Peiffer suffered a laceration on his head in a fall, his weapon was badly damaged. He had to get out prematurely. After two individual competitions the best result of the men of national coach Mark Kirchner is sixth for Kühn in the sprint.