Bonus Point for the Fastest Lap a Catcher?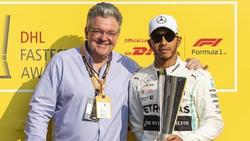 It was perhaps the biggest rule change for the 2019 Formula 1 season. Since this year, another point has been awarded for the fastest race lap. For 21 races this means a maximum of 21 bonus points over the whole season – almost as much as a race win. But what really brought the new rule to the bottom line? We break this down once. Overall, there were only six pilots who shared all the bonus points among themselves. Lewis Hamilton was the sixth most successful driver, adding Charles Leclerc (4), Max Verstappen (3), Valtteri Bottas, Pierre Gasly and Sebastian Vettel (2 each). For the teams that makes eight points for Mercedes, six for Ferrari and five for Red Bull.
    
It is already clear that the 2019 point was only interesting for the top three teams. No midfield team managed to secure the extra counter even once. Twice the bonus point was not awarded because the corresponding pilot missed the top 10. This is a prerequisite for filling in the additional meter for the fastest lap. What impact did the bonus point have on the World Cup? Absolutely none. The respective distances between the top 5 of the World Cup were so great that the extra meters played no role. Gasly was the closest at 95 points, finishing seventh in the championship with Alexander Albon (92 points). However, he would have kept his seventh place without his two bonus points. The same applies to the teams. The gaps between Mercedes, Ferrari and Red Bull are so big at the end of the season that the bonus counters made no difference. "With one point from Melbourne I'm leading the championship, so it can be important," said Valtteri Bottas after the fourth race of the season in Baku. But it was nothing. Instead, the critics should be confirmed in their opinion. For example, Max Verstappen explained early in the season that the bonus point did not contribute much in his opinion. "The gap to the teams behind it only gets bigger [in der WM] if you give the top teams an extra point," he warned. At least in the 2019 season, he was right.