Daniel Caligiuri relies on fans at away fixture at Bayer Leverkusen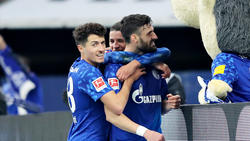 FC Schalke 04 travel to Bayer Leverkusen on the 14th Bundesliga match day. In the run-up, Daniel Caligiuri emphasizes the importance of his own fans. He took the support of the royal blue appendix "natural" during the 90 minutes, Caligiuri told club-own media. "It's not just the game in the BayArena, but all the away games, and we'll have that huge amount of support before kick-off."
    
He gets "an extra push" when the positive mood is already felt during the warm-up: "We are very happy to have such outstanding fans." The 31-year-old comes as third in the table with his team to Leverkusen. "If we knock everything out as in the past weeks, everything is in. I expect an open exchange of blows, as the Leverkusen will also compete with a broad chest." Last season, the team of coach Peter Bosz had 2-1 at FC Bayern won. Caligiuri is still "convinced that we will not go home empty-handed." With a victory on Saturday (18:30 clock) S04 could further consolidate the good position in the table and keep the competition from Leverkusen also at a distance. "To be honest, I look at the table after every game and it has always been that way, even in difficult times, and luckily it looks good for us right now." He does not want to be too high on the current standings, especially "only 13 of 34 games played" are. Nevertheless, many things are possible under coach David Wagner, the way is "not over yet".