DSV ladies completely fail: "Did not fit together"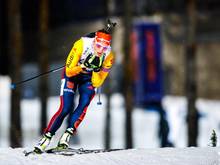 The German biathletes have never been so bad – and the debacle in Hochfilzen was comparable to a sports clap with a football clap against their little neighbor. " That feels like a 0: 4 against Austria, "said Bernd Eisenbichler after the sprint competition. As 41st (!) Pursuit world champion Denise Herrmann was still the best German in the victory of the Italian Dorothea Wierer. "It was a bad result for the whole team, we'll analyze what it was all about, but we certainly will not do actionism," Eisenbichler said.
    
The German ladies made too many shooting errors altogether and complained about unusually bad material. Vanessa Hinz (2 mistakes) had to settle for 42nd place. Still further behind Anna Weidel (1), Franziska Hildebrand (1), Franziska Preuss (3) and Karolin Horchler (3) took the places 49, 50, 54 and 64. In the pursuit competition on Sunday it will be difficult. "It's about mitigation," said Herrmann. In the sprint, the 30-year-old made three shooting mistakes and was 1: 28.3 minutes behind Wierer. Second place behind the overall World Cup winner was secured by Ingrid Landmark Tandrevold from Norway ahead of Russian Svetlana Mironova. "It did not fit at all, from front to back", puzzled ladies national coach Kristian Mehringer. Improvement in the season demanded He demanded after the collective blackout: "The girls have to give an answer in the season". For the race on Saturday (11:30 clock) also Herrmann wishes: "I hope that we can change the switch very quickly., I see the season as an opportunity." Similarly bad it was last January in Oberhof ran. At the home game in Thuringia Horchler had been placed as 34th in the sprint still best – in the relay the German women ran but then in second place behind Russia and beat at the World Championships in Östersund very well. "Actionism," said the new athletic Head Eisenbichler then, "would be all bad news now." The girls were busy over the fall, so now it's time to keep calm, keep your head up, just keep going, give an answer. " The World Championships in Antholz will only start in February 2020.