Erling Haaland apparently already landed in Dortmund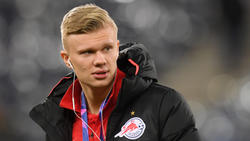 It was not until Tuesday evening that the 19-year-old attacker Erling Haaland with the club RB Salzburg in the decisive group match against Liverpool from the Champions League, on the following day, the Norwegians already in Dortmund have been to negotiate with the BVB over a winter change in the Bundesliga. As the "Ruhr news" and the Dortmund local radio "91.2" report consistently, Haaland is said to have landed on Wednesday evening with his advisor Mino Raiola at the Dortmund airport. After arrival with a charter machine the scorer should be picked up with his entourage of BVB employees and driven to negotiations with the Dortmund authorities.
    
Haaland has been trading hot for weeks at Borussia Dortmund and Bundesliga rival RB Leipzig. While the Saxons want to get the attacker, according to reports, however, only in the summer, the Westphalian have on the striker position already in winter acute pent-up demand. With the injury-prone Spaniard Paco Alcácer currently only a real ninth in the squad of Lucien Favre. After leaving the premier class storm tank Haaland of RB Salzburg could now get the release for a winter change. The shooting star of the Austrian Bundesliga should be thanks to a phase-out clause for 20 million euros to be bargain price. With eight goals in six Champions League games, the son of former international Alf-Inge Haaland equal in his debut season in the premier class all over Europe made aware. Apart from Leipzig and BVB, Juventus, Manchester City and Real Madrid have already inquired about the youngster. However, a few days ago, Michael Zorc did not want to comment on the rumors surrounding Haaland. "It is a matter of respect that you do not speak publicly about players from other clubs," said the BVB sports director on Saturday as part of the Bundesliga match against Fortuna Dusseldorf.